Melody Tapp RNC, MSN, WHNP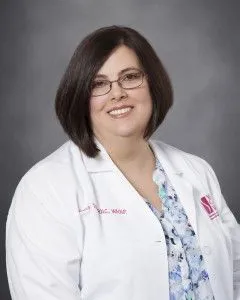 Melody Tapp has been a nurse practitioner caring for women since 2004. She Graduated from Old Dominion University in December 2003 with a Masters of Science in Nursing from the Women's Health Nurse Practitioner program. After becoming certified as a Nurse Practitioner, she worked for Planned Parenthood prior to joining the team at Virginia Center for Women in the summer of 2004.
Melody received her Bachelor of Science in Nursing from Radford University in 1994. After graduation, she worked on the cardiac stepdown unit at Sentara Hampton General Hospital. She worked full time as a Labor and Delivery nurse at Sentara Norfolk General from 1995 until the birth of her children in 2000. She continued working part time in L&D until she returned to graduate school in 2002. Caring for women and their growing families as a Labor and Delivery nurse is where Melody developed her love of women's health and her desire to continue her education.
Melody lives in Chesapeake with her husband Jeff and triplet boys John, Joseph and James. She enjoys reading and spending time with her family.
Melody provides care for women of all ages. She particularly enjoys talking with teenagers and young adults about caring for their bodies and making wise, healthy choices. She provides routine GYN care, contraceptive counseling, STD screening and treatment, counseling and testing for the breast cancer gene, help with menstrual problems, and treatment for menopausal symptoms. She has recently taken an interest in learning more about female sexual function, so she can help women who are struggling with sexual issues.