Dr. Derwin P. Gray Sr.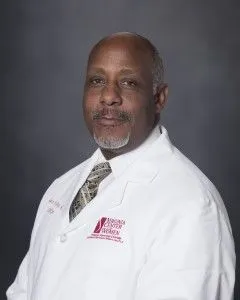 Dr. Gray is a graduate of Tulane University School of medicine. He completed his residency at Howard University Hospital in Washington DC in 1988. He is both certified by the American Board of Obstetrics and Gynecology and is a Fellow of the American College of Obstetricians and Gynecologists. Dr. Gray is also a member of the Board at Eastern Virginia Medical School (EVMS).
His interests include minimally invasive hysterectomy and vaginal reconstructive surgery. He performs advanced surgeries utilizing the da Vinci robot.
He is married to Desiree and has three children.