Do you deal with ovarian cysts often? Wondering if this is the cause of your abdominal pain?
All women will experience abdominal pain at some point during their lifetime. Most of the time it's due to menstruation; however, there are other causes that could be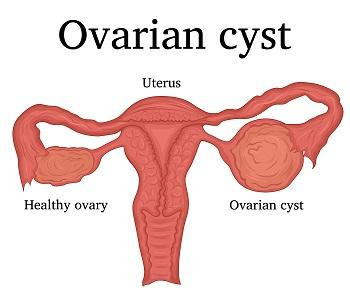 to blame for your abdominal pain. When this happens it can be a bit unsettling, especially if you've never experienced abdominal pain before; however, your OBGYN is here to tell you whether your pain could be due to ovarian cysts.
Ovarian cysts are very common, affecting most women during their childbearing years. Most of the time they are completely harmless (it is very rare that an ovarian cyst is cancerous).
Often, ovarian cysts develop and you don't even know they are there; however, some women experience a sharp or dull pain in the abdomen when an ovarian cyst is present. If the cyst becomes large enough it could cause the ovary to twist, which can cause sudden but intermittent pain on one side. If the cyst bursts, this can result in sudden and severe pain.
If your gynecologist suspects that your symptoms could be due to ovarian cysts the best way to diagnose these cysts is through a pelvic exam or by performing an ultrasound. The ultrasound will allow your doctor to examine the abdomen in detail to see if cysts are present.
How are ovarian cysts treated?
Most of the time your doctor will just monitor your condition and tell you to come back in if the pain gets worse or changes. Sometimes you'll come back in for repeat imaging tests to see if the cyst has gotten larger. Most of the time these cysts will just go away on their own after a month or two.
However, if the cyst is very large or if it's causing severe pain and other symptoms then it may need to be removed. This is something your OBGYN will discuss with you. A cystectomy is a minimally invasive surgery that is done laparoscopically, in which a small incision is made in the abdomen and performed through a very small fiber-optic instrument that boasts smaller incisions that traditional surgery and a faster recovery time.
If you are dealing with unexplained and persistent abdominal pain it's important that you have a gynecologist you can turn to for answers. It's always best to get a medical opinion if you are concerned about any new pain or discomfort. A doctor will be able to determine if it's an ovarian cyst (or something else) and help you create an effective treatment plan that will manage your pain.